The goal of the ELIXIR Data Platform is to drive the use, re-use and value of life science data. It aims to do this by providing users with robust, long-term sustainable data resources within a coordinated, scalable and connected data ecosystem.
Bioinformaticians and life science researchers in both academic and industrial settings need confidence in the sound governance, life cycle management, and long-term sustainability of those data resources.
They also need open access to technically and scientifically excellent data resources for effective data discovery, deposition, and re-use. The ELIXIR Data platform promotes Open Access as a core principle for publicly funded research. ELIXIR resources ideally reflect this commitment and have terms of use or a licence that enables the reuse and remixing of data (see Open Definition for a list of open licenses).
What the Data Platform does
To achieve its goals the Platform works in four groups.
1. Core Data Resources and Deposition Databases
Goal: To administer and support the Core Data Resource and Deposition Database portfolio.
Activities:
2. Literature-Data Integration
Goal: To build a comprehensive, connected data ecosystem across ELIXIR, with deep integration to the scientific literature via the ELIXIR Core Data Resource, Europe PMC.
Activities:
Support reproducibility of research by linking papers to underlying data in ELIXIR data resources.
Ensure reference datasets in ELIXIR data resources, both deposited and curated, comprehensively link to Europe PMC.
Provide technology to support deep linking between Europe PMC and databases.
Provide support for ORCID integration into data resources.
3. Scalable Curation
Goal: To maximise the ability of expert human curators to enrich the ELIXIR knowledgebases through providing trans-resource, scalable curation solutions.
Activities:
Semantic annotation of Europe PMC documents, linked to underlying data resources.
Investigating scalable article triage systems.
Provide technology to support deep linking between Europe PMC and databases.
Exploring opportunities and role for community curation.
4. Long Term Sustainability
Goal: To ensure the long term financial sustainability of the ELIXIR Core Data Resources by contributing to the establishment of a global, internationally shared, sustainable funding model for Core Data Resources.
Activities:
Share the experience gained with the European life science data infrastructure from the ELIXIR Core Data Resource selection process, as considerations of global priorities and resource allocation proceed.
Influence the development of Data Management Plans to ensure best practice and adoption of ELIXIR Core Data Resources and ELIXIR Deposition Databases.
Participating in the international Global Biodata Coalition, working to ensure collective support for those data resources essential to the work of life science researchers, educators, and innovators worldwide.
An example of the Platform's work: community annotation of Europe PMC documents
The Data Platform has helped build a system that enables community annotations to appear in the abstracts in Europe PMC. These annotations can be clicked on for further information.
Before
Before: An abstract at Europe PMC without annotations. Before the annotation system was developed you could not highlight key terms or click on them to access other data resources related to that term across the web.
After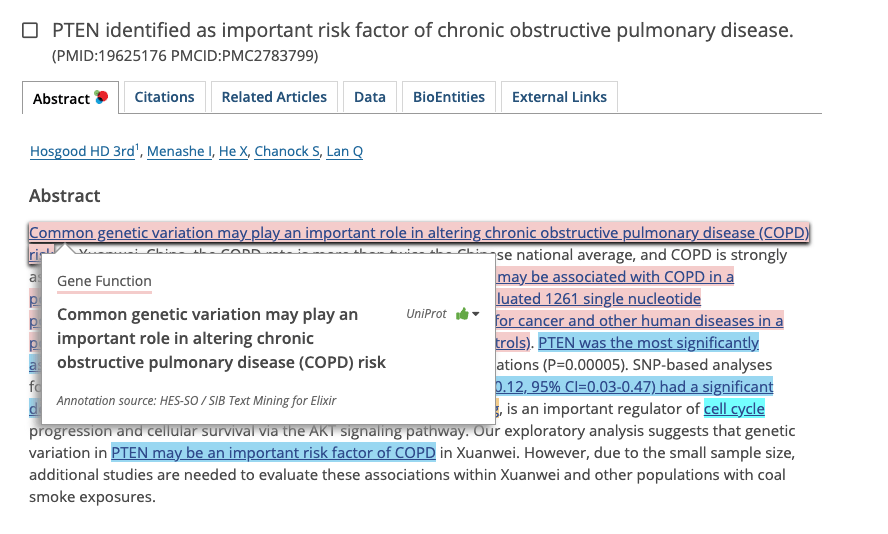 After: You can now highlight key terms, and click the terms for further information. Gene Function annotations, corresponding to GeneRIFs from Entrez Gene, have been mapped back to the articles by the Swiss Institute of Bioinformatics' text mining group, providing links to UniProt (an ELIXIR Core Data Resource). In the abstract above, the link is to the UniProt record for PTEN, where you can find a wealth of information about the protein, its function, the gene that encodes the protein, and the pathology caused by genetic variants.
The Platform is also involved in the following Implementation Studies:
For all ELIXIR Implementation Studies, including completed ones, see the Implementation Studies page.
Leadership