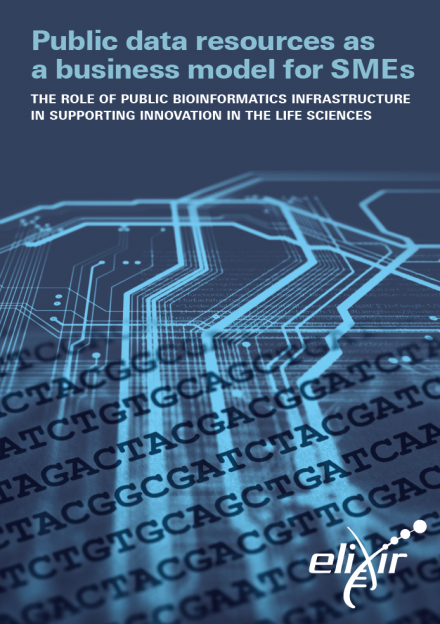 ELIXIR maps for the first time how small and medium companies rely on public bioinformatics data for their business
ELIXIR has today published a report that describes the use of public bioinformatics data by Small to Medium-sized Companies (SMEs) in Europe. Based on a review of business models and the different types of companies that use open biological data, the report explores how open data contribute to innovation and generate business value. The report also features case-studies of seven innovation-driven European SMEs, each with different business model and with a different way of using open bioinformatics data.
An earlier ELIXIR study on patent citations of life sciences databases by industry has already demonstrated a long-term value of open data to the bioeconomy . This report complements the earlier study, focussing on the growing segment of SMEs who have built their business around public bioinformatics databases and software. Their value proposition fundamentally rely on their deep scientific understanding of open data or open software in relevant domains, combined with an ability to build innovative value-add services and analysis capabilities on top of the public resources.
Niklas Blomberg, ELIXIR Director said: "Europe has a vibrant and rapidly-developing ecosystem of life-science SMEs with business models that relies on unrestricted access to public bioinformatics data. These companies all use public databases such as the ELIXIR Core Data Resources and demonstrate the fundamental value of open life science data in the knowledge economy. Our report showcases the opportunities for open innovation in life science and health and hopefully inspires others to follow."
The report profiles seven different companies with different size, location and business models. What they all have in common is the use of open data from public scientific resources. Looking at how they derive value from open data, the report describes three different types of companies that use public data: Customisers, Aggregators and Enablers. These types are linked to different business models and services provided to clients.
Liz Reynolds, Chair of the ELIXIR Industry Advisory Committee said: "Public bioinformatics data is unquestionably important to research in industry and it allows collaboration and innovation across company boundaries that would otherwise be much more difficult. There is a thriving and dynamic ecosystem of provider companies whose business models are rooted in open data and it is important to have that sector recognised by ELIXIR."
Impact of open data
ELIXIR has been set up to manage and safeguard the growing amount of biological data generated by life science research. One of its goals is to ensure that public biological data brings benefits to industry as well as academia.
As the costs of generating '-omics' data decrease, the bioinformatics industry sector will continue to grow. This will in turn increase the demand for robust and sustainable infrastructure for public life science data.
Similarly to other types of infrastructures, which are fundamental to the business models of many different companies (e.g. highways, electricity grid or most recently GPS), infrastructure for public bioinformatic data is of increasing importance to innovation and economic growth. By bringing together bioinformatics resources across Europe and facilitating access to them, ELIXIR will ensure it benefits a wide range of stakeholders and society at large.
Download the full report: Public data resources as a business model for SMEs (pdf)
Contributions
The ELIXIR Hub wishes to thank the contributions made by Pablo Roman Garcia in the research into and production of this report. We are also grateful to the representatives of the seven companies presented in the report for sharing their perspective on open bioinformatics data:
Abel Ureta-Vidal, Eagle Genomics
Jörg Peplies, Ribocon
Hans Constandt, ONTOFORCE
Filip Pattyn, ONTOFORCE
Alfons Nonell Canals, Mind the Byte
Jordi Lanuza, Mind the Byte
Laura Benitez, scientist.com (formerly Intelligent Pharma/Mind the Byte)
Liz Reynolds, General Bioinformatics
Fiona Nielsen, Repositive
Manuel Corpas, Cambridge Precision Medicine (formerly Repositive)
Irina Pulyakhina, The Hyve