On 11 October 2022, ELIXIR held the third ELIXIR Bioinformatics Industry Forum (EBIF) in a hybrid format. This year's EBIF brought together bioinformaticians from academia and industry to discuss visionary ideas in making machine learning robust and reproducible for life sciences.
The first session of the meeting focused on Interoperable data and workflows to enable reproducible machine learning in life sciences and the role of open science in the value chain. Carole Goble from ELIXIR-UK set the scene for the discussion by sharing the importance of machine learning in life science, "machine learning is software engineering and it works at scale through open components and data." Speakers from BenevolentAI, SciBite and Nextflow then shared their experiences in enabling machine learning in different areas of life science, including drug discovery, FAIR data and ontologies and interoperable workflows.
In the second session, ELIXIR invited speakers to talk about challenges and solutions in machine learning for life sciences, especially in federated learning and synthetic data. Daniela Hensen from BBSRC UKRI set the scene for this session by sharing the funder's perspective on artificial intelligence in the biosciences. Following the talk, speakers from The Hyve, AstraZeneca and Owkin shared industry experiences in federated analysis and federated learning.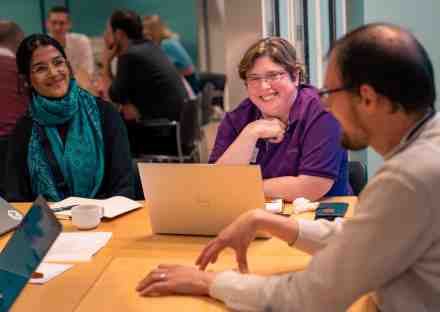 The highlight of this year's EBIF was the roundtable discussion on emerging issues in the application of machine learning in life sciences. Before the roundtable discussion, presenters from academia and the industry gave flash talks on common issues related to machine learning in life sciences, including standards, workflows, interoperability, federated learning, synthetic data and how to build trust and confidence in machine learning applications. Participants and presenters exchanged ideas and solutions to different challenges during the lively discussion. The event ended with a roundtable debrief that showcased outcomes of the roundtable discussion.
To find out more please view the event programme and slides. For further information on ELIXIR Industry activities, visit our Industry and Innovation webpage and sign up for our Industry newsletter to find out about future ELIXIR events and activities. Please contact Industry Officer, Despoina Sousoni (despoina.sousoni [at] elixir-europe.org), if you have any specific questions.
Further information: