The recent expansion of genomic medicine in healthcare systems across Europe creates high demand for bioinformatics service providers such as those providing data analysis, clinical interpretation, data management and training. To help companies to find out about opportunities for collaboration in different countries and showcase successful industry-academia collaboration in healthcare, ELIXIR organised two-day ELIXIR Innovation Forum on Genomics and Associated Data in National Healthcare Initiatives on 5-6 March 2019 in Stockholm, Sweden.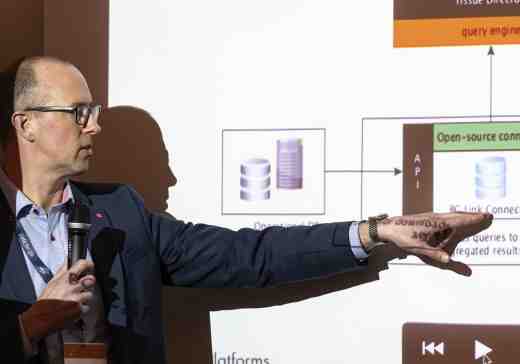 Hosted by SciLifeLab (part of ELIXIR Sweden), the event brought together over 80 participants involved in national healthcare initiatives from industry, academia and the governmental sector to learn about different approaches in the genomic medicine and discuss common bottlenecks and opportunities for collaboration.
Four keynote speakers (Kristina Lagerstedt, 1928 Diagnostic; Henrik Plym-Forshell, BC Platforms; Will Spooner, Genomic England; Paul Jones, Illumina) highlighted the need for public-private partnerships in health initiatives and the importance of making data FAIR (Findable, Accessible, Interoperable and Reproducible) for the common good.
A panel discussion, focused on future developments in precision medicine and population-based genome sequencing projects, highlighted the need to inform patients about the impact and consequences of wide access and sharing of genomics data.
More information
This event was run jointly by ELIXIR Sweden (NBIS) and ELIXIR Finland (CSC) and in collaboration with SciLifeLab and BC Platforms.
About the ELIXIR Innovation and SME Programme
ELIXIR's Innovation and SME Forum is a series of specialised events for companies hosted by ELIXIR Nodes. The events provide companies with the opportunity of learning about open bioinformatics resources available through ELIXIR and forge links with the local ELIXIR Nodes representatives running these services. So far, more than 400 representatives from 150 companies have exchanged knowledge with ELIXIR partners across Europe, from small startups to SMEs, to large pharmaceutical companies and IT service providers.
If you want to stay up to date with the latest events from our Innovation and SME forum series then sign up for the quarterly Industry Newsletter