ELIXIR-EXCELERATE 2019 All Hands meeting, 17-20 June, Lisbon, Portugal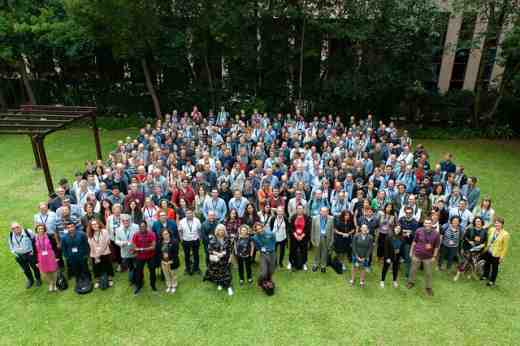 Attended by over 350 participants from across ELIXIR Nodes and partner organisations, the fifth ELIXIR All Hands meeting presented some of the major achievements of ELIXIR over the previous five years, with a particular focus on the outcomes of the ELIXIR-EXCELERATE project. The programme featured four keynotes, over 20 plenary presentations, 33 workshops and nearly 100 posters.
Keynote presentations
The conference keynotes presented different perspectives on bioinformatics infrastructures and bioinformatics research:
Eleftheria Zeggini, from the Helmholtz Zentrum in Germany, presented her research on the genomic aetiology of osteoarthritis
Ana Teresa Freitas, from HeartGenetics in Portugal, shared her insights into the genetic testing market
Paul Kersey, from Royal Botanic Gardens, Kew in the United Kingdom presented his vision for biodiversity informatics
Mónica Bettencourt-Dias, from Gulbenkian Institute of Science in Portugal, presented how bioinformatics informs the study of cells.
ELIXIR-EXCELERATE final review
With the ELIXIR-EXCELERATE project drawing to a close in September 2019, the final review meeting took place alongside the All Hands meeting. The final review culminated in the first plenary session, which presented a comprehensive picture of the results achieved over the course of the project as well as plans for the future.
Poster session and workshops
The full breadth of ELIXIR activities was presented in parallel workshops and a poster session. Five parallel sessions featured 33 workshops, including a demonstration session that presented live tutorials of selected tools and services. The poster session reflected the diversity of ELIXIR's activities - from Communities and Platforms, through to activities in ELIXIR Nodes and ELIXIR's other EU-funded projects.
Next year in Amsterdam!
The 2019 All Hands meeting was ELIXIR's biggest community event yet. We would like to thank ELIXIR Portugal for their support in hosting the event, and to thank all speakers and participants at the conference - we saw great and inspiring talks and had fruitful discussions about the future direction of ELIXIR. Next year's meeting will take place on 8-11 June 2020 and will be hosted by ELIXIR Netherlands in Amsterdam. We hope to see you there!
More information