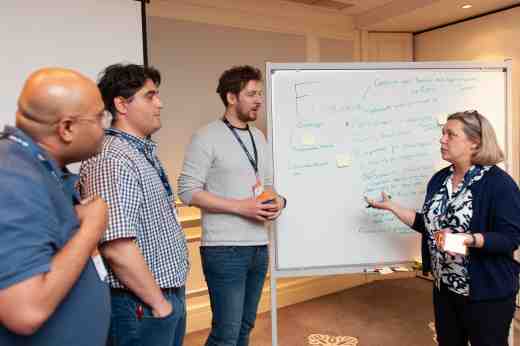 The ELIXIR Staff Exchange programme allows members of an ELIXIR Node to travel and work in other ELIXIR Nodes, or to attend a specific ELIXIR-related event. The programme covers projects of various lengths, from conference or workshop travel grants and short term visits, to longer-term stays (up to six months). See the full list of Staff Exchange projects for examples.
The aims of the ELIXIR Staff Exchange programme are to strengthen the links between ELIXIR Nodes, facilitate capacity building in ELIXIR Nodes and support the exchange of best practices in bioinformatics service provision.
The ELIXIR Staff Exchange programme has three components:
Staff Exchange projects support the exchange of staff between ELIXIR Nodes for short periods of time (around 3-6 months) or for a series of shorter trips over a similar timeframe.
Travel grant scheme provides funding to people in ELIXIR Nodes to attend ELIXIR-related events or to travel for short-term visits to another ELIXIR Node or to the ELIXIR Hub.
Knowledge Exchange Scheme allows ELIXIR Node members (individuals or teams) to spend a short period of time working at industry partners' facilities.
The programme financial support covers travel, accommodation and other expenses related to a specific Staff Exchange project (e.g. workshop organisation). It was originally planned as part of the ELIXIR-EXCELERATE project; and is funded through the ELIXIR Hub budget.
Applications that seek to interact with organisations beyond Europe, in support of implementing ELIXIR's International Strategy, may also be considered. If interested in submitting such a proposal, you must contact info [at] elixir-europe.org prior to preparing your proposal.
The Staff Exchange programme was launched in 2017. The first seven Staff Exchange projects started in December 2017 and included 10 ELIXIR Nodes, additional two projects were launched In 2018.